Sahar Chebaane is a specialist on non-indigenous species (NIS) in the South Mediterranean. She's actively studied the field for the last seven years and is a founding member of the Alliance PAME sud-med – the first alliance between managers of marine protected areas, researchers and marine conservation NGOs in North Africa. She's also a PhD student at MARE-Madeira.
A young woman from a developing country, Sahar shares how she overcame obstacles en route to her goals, why she loves studying non-indigenous species(!) and 'the secret sauce' to becoming a marine biologist.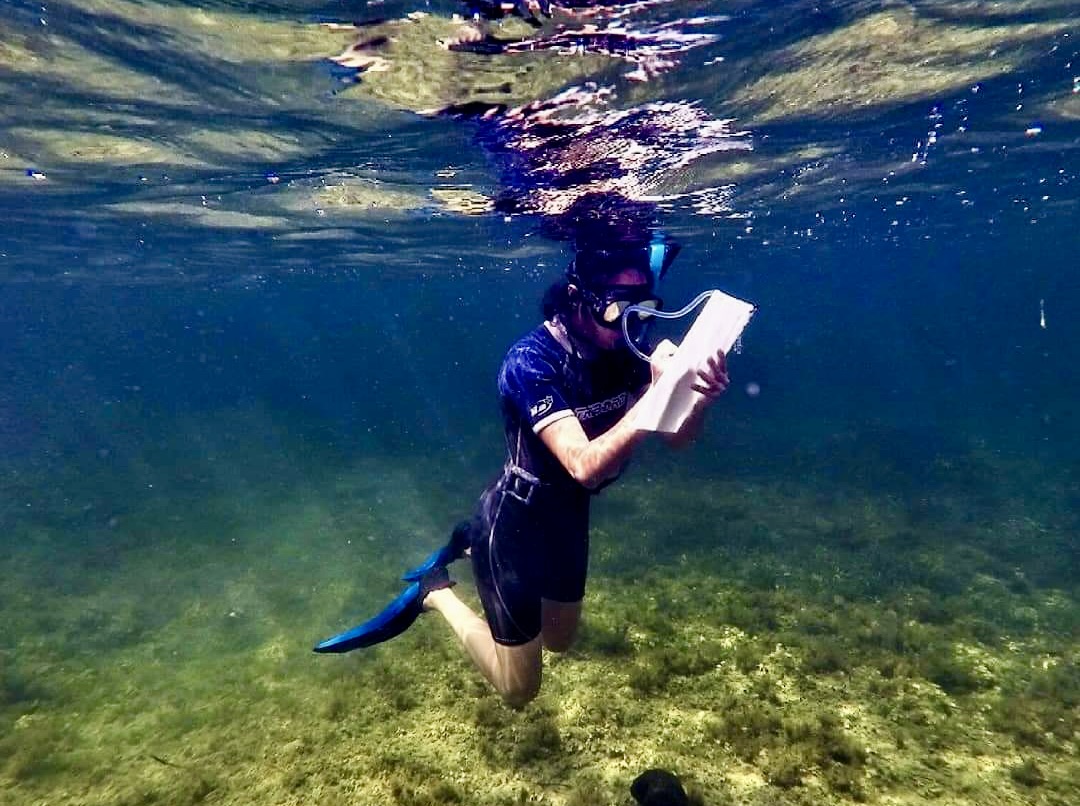 Education in situ
The best education isn't always acquired behind stone walls. We might even go so far as to suggest that it rarely is…but we're scientists, and that sort of claim is too subjective to be controlled and tested for. What we can do, though, is point to examples where peer-group-leading amounts of knowledge has been accumulated outside of classrooms. For this, and to start, we can point to Sahar Chebaane.
Looking at Sahar's high school and university transcripts, you might be underwhelmed. Sahar readily shares that she didn't score well on traditional exams in Tunisia, where she grew up and studied. Part of this, she explains, is that the exams are in French (one of three languages used in the country and Sahar's least fluent). The other part — perhaps the larger part — is that Sahar has always been far more interested in studying outdoors than in.
"I am from a city called Teboulba in Tunisia. It is a fishery village. My grandpa is a fisherman, the decoration in my house is all about the sea and since forever I've spent my life playing at the beach." Sahar gives a mischievous smile. "And by 'playing at the beach,' I mean searching in seagrass for slugs. I was so, so curious. In the sea, in nature, in everything."
Sahar's curiosity accompanied her to university in Tunisia. She used to skip classes to go to the sea and collect specimens, take them back to the lab to use the stereomicroscope and find out what species they were (professors in the lab soon knew her well enough to give her a key). Her curiosity and desire to learn as much about marine ecology as she could also led her to discover an NGO working in marine conservation called Notre Grand Bleu (NGB). Having taken a scientific diving course by this point, Sahar spent most of her university days snorkeling and diving around the Mediterranean, volunteering on NGB's marine conservation missions.

One of the researchers collaborating with NGB, Dr. Yassine Ramzi Sghier, was working as a marine biologist with the Mediterranean Action Plan (MAP), part of the UN Environment Program (UNEP). At this point, Yassine was monitoring Posidonia in the Kuriat Islands in Tunisia. Standing beside his research boat one day, he asked which of the NGB student volunteers could dive. All of the girls, including Sahar, raised their hands. (For reasons lost to history, none of the boys were divers.) Then he asked, 'Okay, who wants to go with me to—?'
Sahar laughs. "He didn't even finish the question. I am already on the boat!"
It began what Sahar describes as two of her best years. "I was working with Yassine and I was really motivated," Sahar remembers. "I was thinking, 'I am doing what I want, this is my dream job! I wanted to grow up and be like him.'" And when Sahar decided she wanted Yassine to supervise her bachelor's thesis, she wouldn't take no for an answer. "I was begging him. He was ghosting me, you know? And I was sending him emails, messages: 'I want to work, I want to work with you!'" He eventually broke down and agreed.
A quest to understand non-indigenous species
"I think I was influenced by some article I read," Sahar explains of her fascination with non-indigenous species (NIS). "It sounded like a subject where I could satisfy my curiosity. And so far, that's been true. Monitoring NIS, you're constantly learning about new species and what they can do to an ecosystem. It's the continuous surprises in this field that keep me interested. It's why I want to keep working in it."
Sahar is clear that her interest doesn't stop at the academics of it. She's also committed to developing action plans to help manage the spread of NIS.
Taking the Devil's Advocate approach, one could argue that all species, at some level, are non-native. So why work so hard to stop their spread? Sure, human activity accelerates the global spread of species, but does it really matter whether a new species of barnacle arrived on a boat or on a whale? At the end of the day, humans are just another player in the evolutionary game.
Sahar nods at the truth of it. "Humans are the main invasive species. We are REALLY invasive. And we have a huge impact on our ecosystem." Which means that identifying and managing NIS isn't about labeling a species as 'bad' — for not only are we far more invasive than any other NIS under management, we're usually the cause of other species' spread in the first place. But while we can't stop ecosystems from changing and facing threats from new species, we can take reasonable action to avoid ecosystem shocks — rapid NIS spread that can decimate local marine fauna and flora populations, leading to knock-on effects to societies, economies and livelihoods.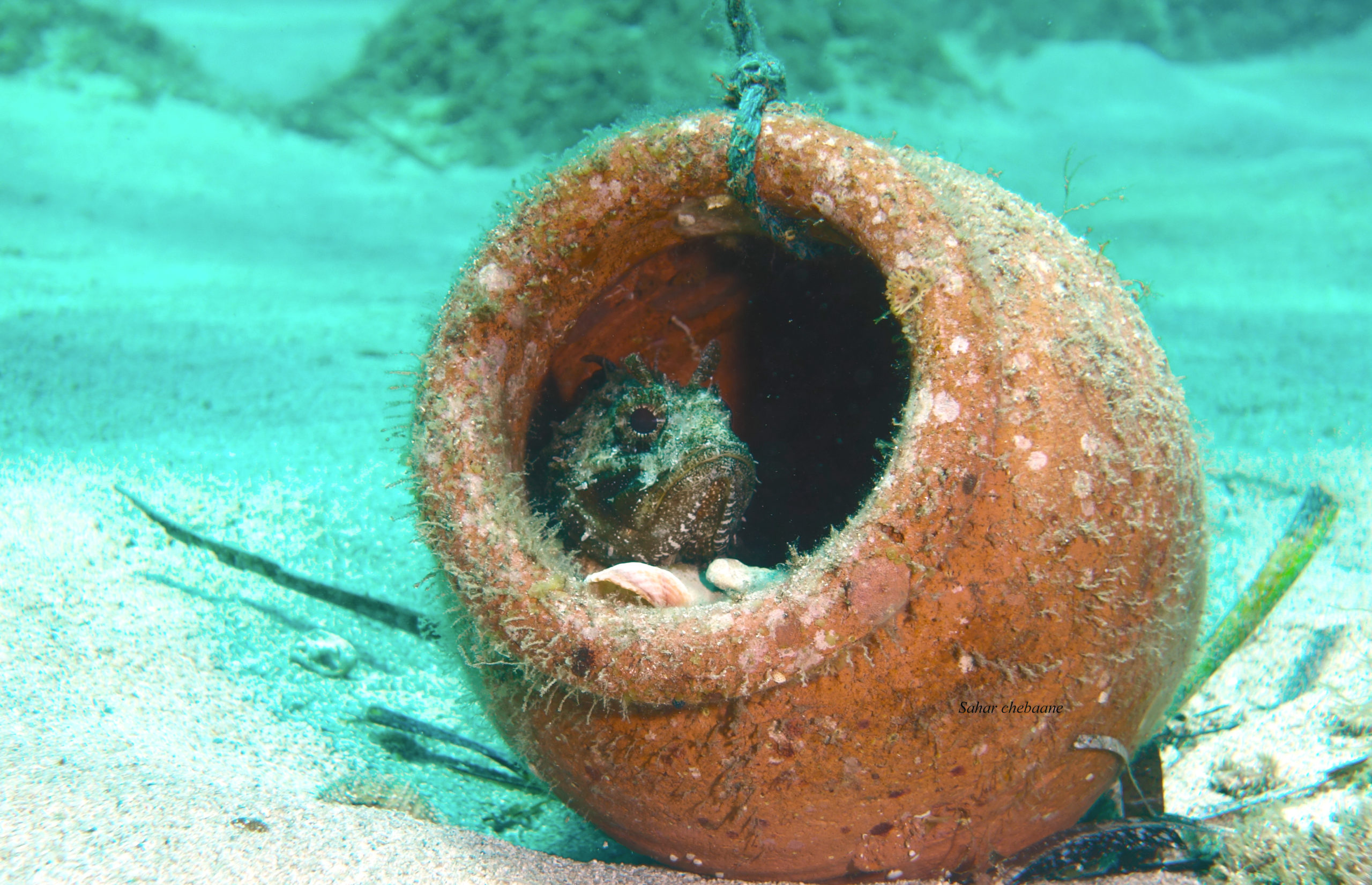 "I'll give you an example," Sahar says. "In Greece, there is an invasive fish, Siganus sp., and it grew so rapidly and without a concerted effort to manage it that it ended up eating all of the seaweed forests. Not having seaweed forests reduced the nursing areas for fish and invertebrates. Having fewer nursing areas and invertebrates reduced the number of fish. Less fish affected the fishermen and their income. Which made fisherman angry. Angry fishermen led to social problems. The loss of fishing income led to economic problems. All of that, just from one fish."
Try, try, try again
Despite receiving highest honors on her thesis defense and despite three years of fieldwork with a marine conservation NGO surrounded by international experts sharing their knowledge and despite an internship with the World Wildlife Foundation and despite presenting a poster at a forum related to COP22, when Sahar applied for a Master's program in Tunisia, she was rejected. The reason? Below-average classroom grades.
Sahar could easily use this example to decry the weaknesses of educational systems in assessing a student's knowledge and potential, but instead, Sahar focuses on the importance of determination.
"I come from a middle-class family in Tunisia. My parents couldn't afford for me to learn scientific diving or travel to conferences or even to study. But I never stopped searching, never stopped applying. I was all the time applying for grants — from here, there. Anything that could help me move forward.
"For people in the same situation," she says, "I draw a big line — a double line — under dedication. If you want it, you can get it. In the summer, while all my friends were going out to parties, I was out on an uninhabited island doing transects, recording species, looking at them under the stereomicroscope. And when all the people at university were wearing nice clothes and high heels, I was in my flip-flops with a bucket. To work in marine biology, especially if you're from a developing country, you need dedication to make it happen."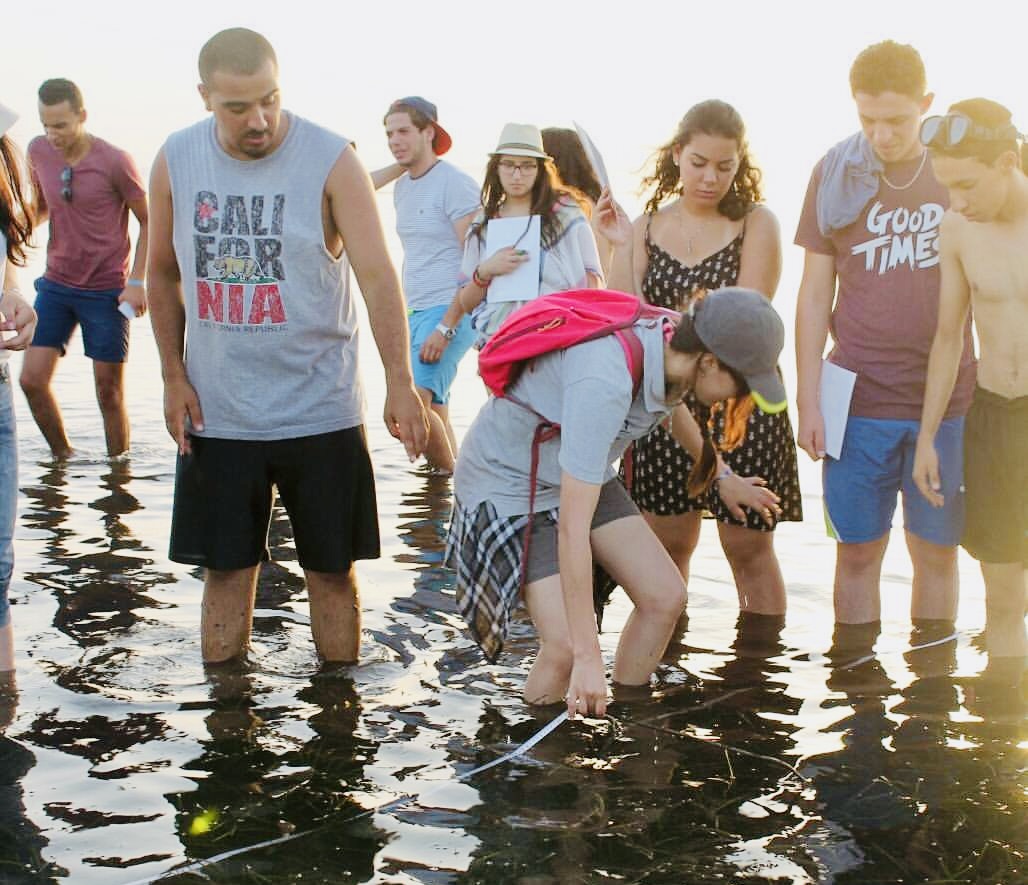 Coming back to that rejected Master's application – well, Sahar didn't take no for an answer. (Anyone else seeing a pattern?) She leveraged her network of expert researchers from NGB to persuade the university in Tunisia to accept her. She got in. And as soon as she did and was told to pick a thesis project, she ran straight to her former supervisor and cried, "Let's do MORE!"
The importance of surrounding yourself with good people
"Being young and a woman in science — it's a hard job," Sahar admits. "When you speak, you need people to hear you. But on some occasions, people look at you like you're a little girl. I've been told, 'Oh, you can't dive because it's too heavy.' And, 'You want to dive to make bubbles, not do experiments.'
"There are people who don't take you seriously, who don't listen to your opinions. Being a woman, I feel the need to be more cautious. When I have a question, I have to think about it twice, to make sure people don't think I'm dumb — not just curious," Sahar says.
"I'm also from a developing country. It's true that we don't have as many high quality researchers compared to other places due to the economy and educational system. But there are still some people who are very, very good. The perception of women and the perception of scientists from developing countries…" Sahar trails off. "It makes things complicated."
And regardless of sex or nationality, there will always be a few toxic people who try to thwart your progress. Like the woman who shut Sahar in a room and told her, 'The person who goes up fast falls down fast, and they cannot wait to see you fall.' Or the conservationist who saw Sahar as a threat and so threatened her first. She says sagely, "I know there will always be a few of these people and I will have to pass them to continue on."
So where does one find the confidence to continue in the face of financial challenges, preconceptions, toxic people and the word 'No'? For Sahar, her confidence comes from three things: surrounding herself with positive people, dedication and having clear objectives.
"In my case, I feel very lucky," Sahar says. "I've been surrounded by very positive people throughout my career." She lists her supervisors, professors, the people at NGB, colleagues and collaborators among her positive influences. "My first supervisor encouraged me to meet more experts, took me to congresses, introduced me to many people. He trusted me a lot and really raised my confidence. And here, I really appreciate the MARE-Madeira team and Canning-Clode. He's an amazing leader and I've learned a lot from him."
As for having clear objectives, Sahar stresses the importance of thinking three years out. "When you have an objective and something you really want, I believe the universe will follow your decision. If you want it, and you have the dedication, you will get it."
MARE-Madeira
Sahar applied that well-honed dedication when applying to MARE-Madeira for her PhD. Searching for projects studying the impact of NIS, not simply their monitoring, she came across an opportunity here. "I didn't know where MARE was. I didn't know where Madeira was. All I saw was Canning-Clode, who I'd been following on Twitter and whose papers I'd referenced in my Master's, and I saw the topic," Sahar remembers. "I put so much effort into that cover letter and CV, all the time thinking, 'This is mine. This has to be mine! This is my thing!'"
Fortunately, her efforts paid off and we're lucky to have Sahar on our team. Now in the final year of her PhD and working alongside her co-supervisor, Becas (João Monteiro), she's part of a team doing the first underwater experiments of their kind, assessing the impacts of NIS around Madeira. "We have a nice set-up underwater to take photos and videos now. It's not easy, especially in the middle of the ocean like we are here. But the advantage is that we can watch behaviors between indigenous and non-indigenous species," Sahar explains. "It could be a game-changer for NIS management. If I see a fish eating a NIS on a camera, for example, then we can advise management to say 'no fishing' in that harbor, and especially this species of fish. Because if that fish is acting as a natural barrier, then protecting it could reduce the impact of the NIS."
"My PhD studies are going well thanks to Becas, who's taught me a lot about marine technology and scientific diving and writing," Sahar says, "And my supervisors Miguel and Aschwin who have also shared their expertise in statistics and scientific writing. I feel extremely happy and grateful for my lab-mates and everything I've learned during my PhD."
By now, of course, you can probably guess that Sahar wouldn't be content with 'just' doing a PhD. Nope, between all the field work, conferences and scientific writing a PhD involves, this powerhouse is co-supervising Master's students in Tunisia and Italy, doing risk assessments of NIS in Tunisia, working with a major citizen science platform called TunSea and — in her spare time — is now the NIS expert in the first alliance of marine researchers, conservationists and MPA managers across the South Mediterranean.
A young expert in the South Mediterranean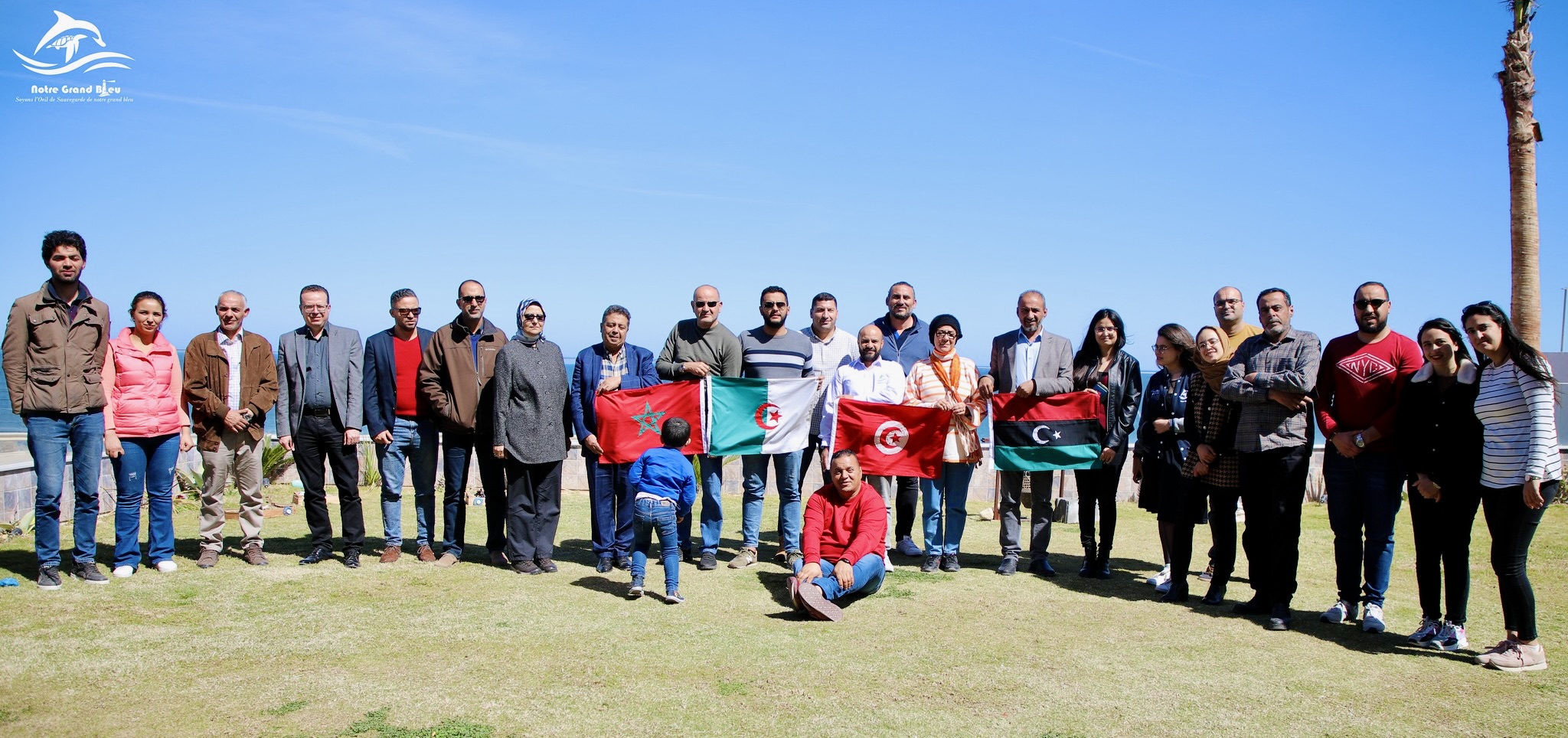 It was last year while volunteering at a NGB summer school that Sahar first discussed the idea of a South Mediterranean alliance. "I was sharing a taxi to the airport with an expert from Algeria. We were discussing how poor the collaboration is in the South Mediterranean and said we should fix that," Sahar recalls.
Some great ideas never make it past the taxi stage. This one, however, was too good to drop. "I returned to Tunisia again last summer and began speaking about the idea of an alliance in NGB. I was only thinking about NIS, but they already had a bigger idea – they wanted to invite experts, NGOs and MPA managers from every country in North Africa to join an alliance," Sahar recalls. "After that, we organized online meetings, we talked more about it and now, only a few months after that first conversation in a taxi, we've made it happen."
The PAME sud-med Alliance had its first meeting in Tunisia this month.
"I'm very, very satisfied," Sahar says. "Finally, the thing we really wanted to do is happening! To show that we exist, that we're doing science. Until now and in most conferences, work from the Mediterranean is from the North. Because in the North, they're much more organized — they've been working together for years. Finally, we can start to do work on a big geographic scale, together, in the South Mediterranean."
The Alliance has an expert panel for the major marine conservation themes in the South Mediterranean. These experts guide the management actions and they standardize the methodologies for marine conservation that are then implemented by directors of the marine reserves. On this expert panel, there's a man from Algeria who's an expert in monitoring fish and Posidonia; there's a man from Morocco who's an expert in Coralligenous; and there's a man from Libya who's an expert in managing coastal areas and human rights. And who did the Alliance name as the expert in NIS? None other than Sahar Chebaane herself.
During the meeting, Sahar initially tried to downplay her expertise, stating that she was just a PhD student, not an expert. But the members of the Alliance were adamant — she had done the most work on NIS in the South Mediterranean, so she should be the expert.

"They could exclude me easily, because I'm not even a doctor," Sahar says of the Alliance. "But they acknowledged the fact that I was involved in this idea from the beginning. For me, I really appreciate it. I wish everyone was like these people. Super professional, super ethical. No matter who you are, how old you are, what you do.
"It's true I am young and a woman, but believe me – there, I never feel less because I am young or a woman. My voice is heard. Even though they have so much experience, they look at me like an equal and are always lifting me up. It's a really nice environment to work in and to grow. I am learning so much."
Time will tell of the impact this alliance can have on the research and marine conservation efforts in the South Mediterranean. For now, they have an action plan, a protocol for monitoring NIS (designed and tested by our very own Sahar!) and a vision.
A vision
Sahar says that to be successful in marine biology, you have to love it. "It has to be your hobby, not your job." Sahar admits, laughing, "My fiancé says I'm a workaholic. But I'm not suffering! I love what I do!"
On top of that, Sahar says that the secret to making it happen is a long-term plan and total commitment to that plan.
So what, you may ask, is Sahar's long-term plan?
"I don't just want to be a researcher with a name on a paper," she says. "I really want my work to have impact. I really want to do something positive. When we detect a NIS problem, I want to help manage it. I want to be an active citizen. For me, this is one of my highest objectives."
If the rest of this story has told you anything, dear reader, surely it's that Sahar can make it happen. Whatever 'it' is, and no matter who tells her she can't, this young woman isn't going to stop.
Anyone still feeling underwhelmed?